10 Amazing Marshmallow Cakes You Have to Try
Marshmallows are the perfect way to create a unique dessert. These fluffy treats remind many of drinking hot cocoa on cozy nights. Not only are they a sweet winter treat, from a baker's prospective they work really well with a variety of other ingredients. Marshmallows have become a staple to the dessert world. To show some of the delicious ways marshmallows create amazing cakes, we put together a list for you. Whether you are a chocolate lover or a pumpkin fanatic, we have a marshmallow cake recipe to please your taste buds!
Chocolate Cake with Coconut Cream and Marshmallow Buttercream Frosting
The perfect duo of marshmallow buttercream frosting and toasted coconut flakes topping a delicious chocolate cake. A dessert to die for.
Find this recipe at Spoonful of Flavor
Campfire Delight
A mouthwatering 6 layer cake combining moist chocolate cake, rich chocolate frosting, toasted marshmallows, and vanilla frosting. This cake will have you imagining you're around the campfire!
Find this recipe at Sweetapolita
Cereal Supreme Cake

Childhood memories of cereal and milk are brought back to life with this creative and fun marshmallow coated cake!
Find this recipe at Becca Bakes

Hot Chocolate Cake with Homemade Marshmallows

This cake is as delicious as it sounds. A chocolate based cake topped with homemade marshmallows. You'll be surprised at how simple the marshmallows are to make on your own!
Find this recipe at Lemon Sugar
Rocky Road Bundt Cake

This breathtakingly beautiful bundt cake combines chocolate and peanut butter cake bases with a decadent marshmallow glaze.
Find this recipe at Liv For Cake
Popcorn Cake

This unique cake is made in a bundt cake pan and is actually formed from popcorn, chocolate candies, marshmallow, and pretzels. If you are looking for something fun, surprising, and delicious to make, this is your cake.
Find this recipe at Cookies and Cups
Chocolate Marshmallow Molten Lava Cake

The description of the cake says it all. These adorable mini cakes are sure to keep you wanting more. Hot chocolate inspired cakes filled with gooey marshmallows, say no more!
Find this recipe at Cafe Delites
Pumpkin Marshmallow Cinnamon Cake

Pumpkin season is still going strong, and this pumpkin marshmallow cake is a great addition to your pumpkin to-do list. Pumpkin cake with toasted marshmallow filling and a cinnamon swiss meringue buttercream frosting.
Find the recipe at Ask Chef Dennis
S'mores Cheesecake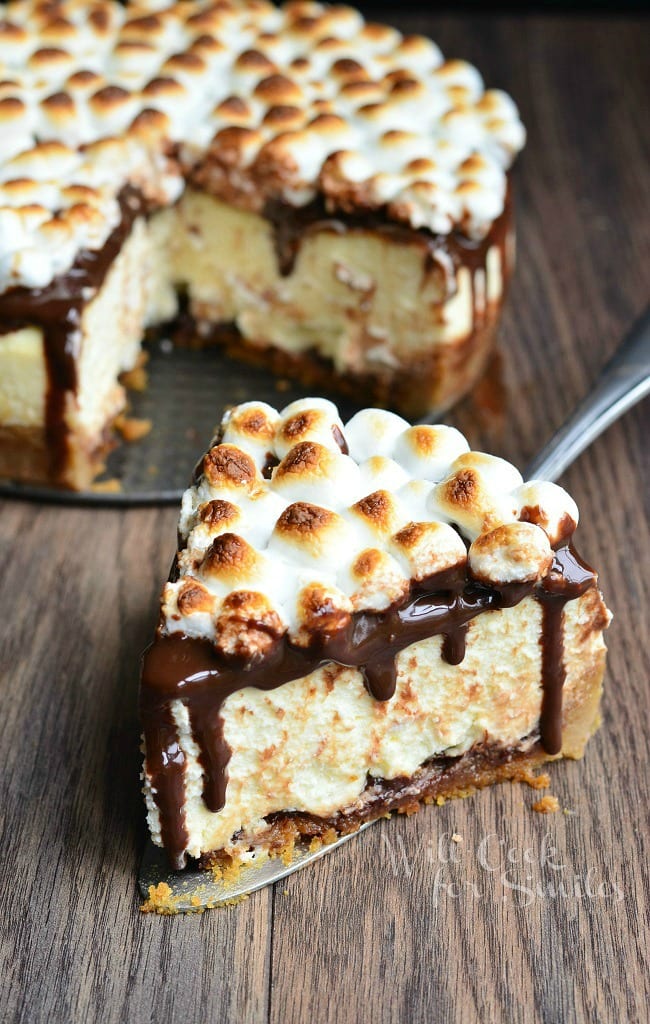 All the delicious tastes of the camp fire treat baked into a cheesecake.
Find this recipe at Will Cook for Smiles
Autumn Delight

An Autumn flavor combination, mixing sweet potato, ginger, pecans, and marshmallow. This is definitely something to bake before the season ends!
Find this recipe at Sweetapolita
Which marshmallow treat are you going to make?