10 Baklava Inspired Desserts
Baklava is a traditional pastry dessert made rich with honey, nuts, and phyllo dough. This dessert is commonly found in both Greek and Turkish history. What makes baklava so unique is its many thin layers held together with drips of butter. This tradition has been altered by baking pioneers who use the basic baklava concepts and create something new! We made a list of some amazing baklava inspired treats. From breakfast approved sweets to delicious cupcakes, we have something for any craving.
Some of these recipes call for boxed phyllo dough which you can find in the freezer section of most grocery stores. If you are up for a challenge, a great recipe for homemade phyllo dough along with a step by step tutorial can be found at Livin the Pie Life. Happy baking!
Baklava Cupcakes
These baklava inspired cupcakes take the ingredients of traditional baklava and transform them into cupcakes with mascarpone icing.
Find this recipe at Yummy Crumble
Baklava Cookies

All the goodness of baklava in a simple cookie! These are easy ways to curb your baklava cravings.
Find this recipe at Cooking with Curls

Brownie Baklava

Traditional baklava... and chocolate. No need to say more. You have to try this.

Find this recipe at Platter Talk
Baklava Pull Apart Bread

Ever wondered how to make baklava into an acceptable breakfast? Well, here it is! Delicious pull apart bread with all the makings of traditional baklava.
Find this recipe at Sprinkle Bakes
Baklava Cheesecake

This cheesecake is filled with honey, walnuts, and cinnamon with a phyllo dough crust.
Find this recipe at Life, Love & Sugar
Chocolate Chip Cookie Dough Baklava

This spin on traditional baklava creates a chocolate chip cookie dough dream combining the baklava we know and love with cookie dough and a brown sugar and vanilla simple syrup.
Find this recipe at The Domestic Rebel
Baklava Crepe Cake

A unique cake using baklava flavors and thin crepes. This cake creates a lighter take on traditional baklava. You also can top it with syrup!
Find this recipe at A Cookie Named Desire
Peanut Butter Baklava

This recipe is a bit of a variation of the traditional baklava, as this uses PEANUT BUTTER to create a unique taste! For all you peanut butter lovers out there, you have got to try this recipe.

Find this recipe at Crazy for Crust
Nutella Hazelnut Baklava Pie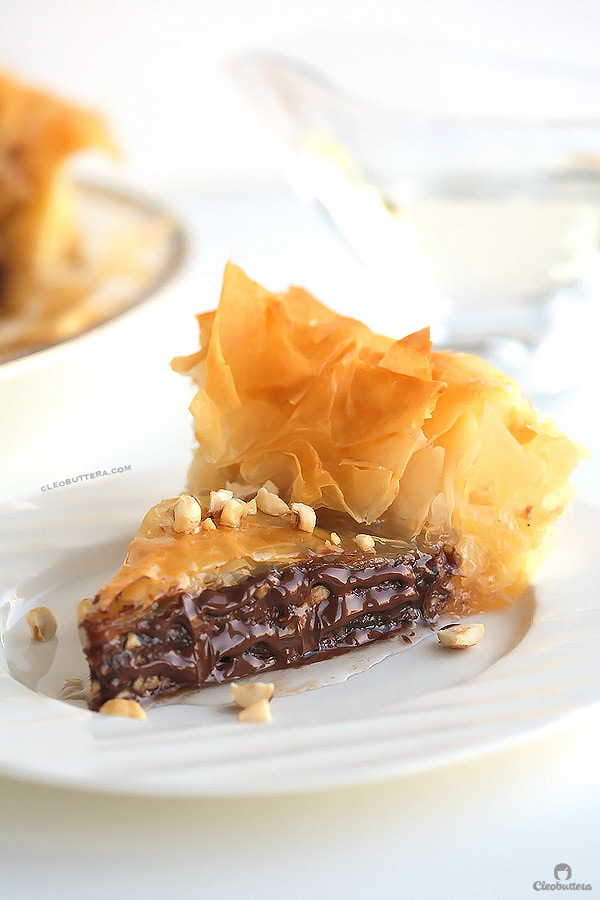 This recipe combines Nutella with the traditional baklava phyllo dough in a pie form! If you love Nutella, you must try this.
Find this recipe at Cleo Buttera

Baklava Sourdough Cinnamon Rolls
Another unique baklava inspired treat are cinnamon rolls! This recipe uses a sourdough based roll to create a very rich flavor.
Find this recipe at Cooking with Curls
Which baklava recipe will you be making first?