14 Times Beyonce Inspired Us To Be Our Best Selves
Beyoncé: the woman, the entertainer, the mother, the living legend, the philanthropist, the Queen Bey, is very multifaceted. One thing we know for sure? We can learn a LOT from her, displayed in technicolor onstage and in the quiet work of her philanthropy. Let's take a look at 14 times Beyoncé inspired us to be our best selves!
1. The time she took a risk that would change the way the entire music industry thought about promotion and release schedules when she surprise-dropped her self-titled album in December 2013...
2. ...and each song was accompanied by a gorgeous video, like it was nothin.'
3. The time she played with our blood pressure AGAIN when she surprised us with "Formation," a song and video that unapologetically celebrate black beauty in all forms...
4. ...and then performed that song, with dancers in Black Panther-inspired outfits by her side, at the Superbowl, the third most-watched TV event in history. No big deal.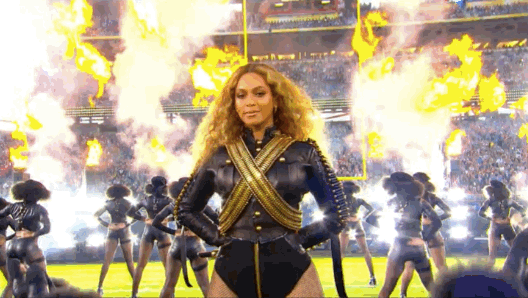 5. When she came under fire for singing the National Anthem along to a track at President Obama's second inauguration...
6. So she sang it again a capella, and asked: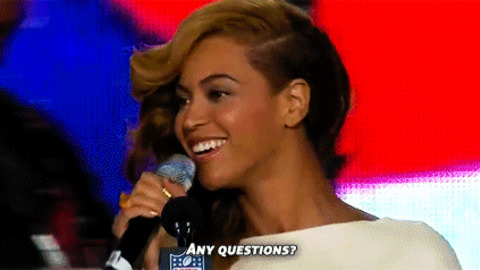 7. All of the times that she has quietly donated millions of dollars to important causes close to her heart.
8. The time she sampled Chimamanda Ngozi Adichie's amazing Ted Talk on feminism in "***Flawless," spreading the message to millions...
9. ...and when we learned that her backing band is made up entirely of women...
10. ...and when after all that and then some, people still relentlessly questioned whether or not she was a feminist, and she didn't break a single public drop of sweat over it.
11. In fact, has she ever dropped a single drop of public sweat over anything besides singing and dancing her butt off flawlessly onstage?
12. Nah, she just glistens.
13. After all, one of the best lessons she's ever taught us?
14. "Always stay gracious, best revenge is your paper."